In this article, we're taking a look at acrylic nails vs. gel nails! To fully understand the differences between the two (acrylic nails and gel nails), you will have to read this article to the end.
Artificial nails are one of the best options for people who wish to have perfect nails for any event.
It is especially important for persons who have bitten off their nails or have uneven growth that distorts their looks.
However, a key issue for prospective users is the availability of numerous possibilities for selecting such nails.
For example, there are acrylic nails and gel nails, and it may be tough to choose one over the other.
Acrylic Nails vs. Gel Nails: What's the Difference?
When this is the case, the obvious solution is to weigh the benefits and drawbacks of each form of artificial nail.
RELATED: Acrylic Nails in Quick Easy Steps
Though the end user will always have the last say based on his or her needs and budget, learning a little about both can help make the decision easier in either case.
Acrylic nails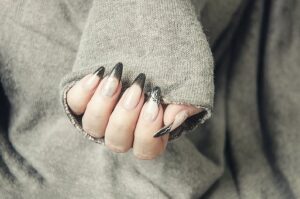 Most females have had their acrylic nails done at some point in their lives. The acrylic will stick to your natural nails.
Acrylic nails can provide women with a shine and longer, unbreakable nails that they may not be able to obtain with their natural nails.
Acrylic nails are far more stylish than gel fingernails, but they have been available for a longer period of time, so that makes sense.
Acrylics can be put completely or partially, across the entire nail or just the tips. Acrylic nails are man-made nails that are designed to give the appearance of having a long, attractive free edge.
RELATED: 7 Tips For Maintaining And Caring For Acrylic Nails
Acrylics are sometimes known as fake nails or artificial nails since they are put onto your natural nails. Acrylic fingernails can be painted with complex designs that make them stand out.
Acrylic fingernails are essentially created by combining a specific powder and liquid. Acrylic is the generic name for a type of plastic made from the chemical methacrylate.
Acrylics are transparent, heat-sensitive plastic that is commonly referred to as fake. When properly fixed, acrylics usually establish an airtight seal with the native nail.
Acrylics frequently improve the overall appearance of our hands. Acrylics can be used to conceal or even heal broken, damaged, short, or crooked nails.
Acrylic is a hard, thick plastic substance that can be applied over natural nails or tips.
Acrylic nails are normally the more durable option and can last longer than gel acrylic nails, but they are thicker and more artificial-looking.
Acrylics may become a wise solution for people who are currently experiencing fingernail troubles.
RELATED: Spring Nails Colors For Olive Skin
Acrylic packets are available in a variety of forms and shapes. They can also be adorned with various decorations and nail piercing can be performed on them.
Acrylic nails look wonderful and may be purchased in a variety of patterns. Acrylics are an extremely popular nail enhancement option for strengthening and enhancing natural nails. Acetone can be used to remove acrylic.
One of the most appealing aspects of acrylic nails is their length, which allows nail technicians and artists to effortlessly stamp unique designs on top of them.
Acrylics are ideal for people who are unable to grow their own natural fingernails for a variety of reasons.
Gel Nails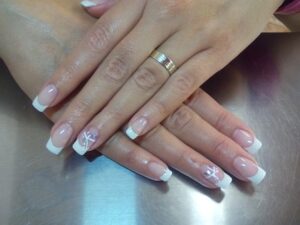 Gel fingernails are the greatest option for women who want longer, more durable fingernails. Gel and artificial nails produce comparable results.
RELATED: Debunking Common Nail Polish Myths
Gel fingernails are typically more difficult to perform yourself if you enjoy doing home manicures. Gel nails nearly usually require filing.
Gel acrylic is a one-part method that consists of the application of a thick viscosity gel acrylic. The gel is typically 'cured' using a high-quality UV light box.
Gel acrylic nails, on the other hand, have a lighter appearance and appear more natural. When compared to acrylics, gel nails are still in their infancy.
Gels can also be used to mend broken or split fingernails. When gel nails are applied over natural nails, the genuine strength and also longevity of your nails are ensured.
When mixed with silk and fiberglass, the strength of gel fingernails is usually increased.
The gel nails are quite thin and have the appearance of genuine fingernails. You can use the gels to get almost any look associated with regular nails. Furthermore, applying gel nails is much the same as applying nail polish.
RELATED: 10 Tips to Keep Your Nails Strong and Pretty
A gel nail is often a pre-mixed polymer and monomer gel that is applied to the nails and then cured under ultraviolet radiation.
Some people believe that airbrushing appears better on gel nails because they are glossy, but when it comes to beauty, everyone has different preferences.
When removing gel, use a nail file to remove any gel or topcoat from your acrylic nails, making them more exposed to the acidic properties of acetone.
You can buy many kinds of gel (Bio Sculpture has one called "S Gel" that is said to be as hard as acrylic) as well as colored Gel that is great for toes.
Another advantage of gel acrylic nails over acrylic nails is that the process is odorless.
Use This As A Recap
Have you had a manicure lately, or ever? A manicure is a beauty treatment for the hands, focusing on the nails, cuticles, skin, exfoliation, and hand massage.
RELATED: How To Choose the Best Nail Shape for Your Fingers
It includes trimming, moisturizing, cuticle removal, exfoliation, and a hand massage to increase blood flow and give overworked hands a treat.
Gel nails are artificial nail applications that can be applied directly onto the nail or with a tip to extend its length. It is then put under an ultraviolet light to solidify the gel.
Gel nails are stronger and more expensive than acrylic nails, but they give off a natural and lightweight look and are a great choice for those with damaged nails.
Acrylic nails are made up of a powdered and liquid acrylic product, applied to the natural nails, and then buffed to create a layer of acrylic. Additional layers are then applied to the nails and shaped and buffed to create a smooth surface.
Frequently Asked Questions
Here are a few FAQs I get asked concerning (or related to) acrylic nails vs. gel nails.
RELATED: The Best Spring Nails Colors
Do acrylic nails damage the real nails?
Wear and tear and long-term use of acrylic nails can cause nail lifting.
Are acrylic or gel nails better?
Gel nails are more flexible, but acrylic nails provide a hard, protective layer.
Are acrylics bad for your nails?
Acrylic nails contain harsh chemicals that can irritate and swell the nail bed.
Which lasts longer gel or acrylic nails?
Acrylic nails are more durable than gel nails, providing protection for real nails.
Is gel or acrylic better for weak nails?
Gel nails are less harsh on natural nails and beneficial for weaker nails.
RELATED: How To Stop Premature Nail Splitting
What are the least damaging fake nails?
Gel extensions are lighter and less damaging than acrylic nails.
What type of nails lasts the longest?
Dip Nails Last Longer
What's more expensive gel or acrylic?
Gel nails require more equipment to be applied properly.
Which is faster gel or acrylic?
Gel nails cure faster and are more flexible than acrylic nails.
Will acrylic nails fall off?
Acrylic nails can last 2-3 weeks with proper care and maintenance.
Do natural nails grow under acrylics?
Acrylic powder nails can be painted with nail polish to create a beautiful look.
RELATED: 16 Spring Nails Colors For Dark Skin
A Word From GetMe Treated
Acrylic nails vs. gel nails are similar in that they can be used with or without an added nail tip and need to be done every two weeks.
Gel nails tend to have no odor and look natural, while acrylic nails tend to look their best when polished. It is a personal preference as to which is better.