Let's have a look at the summer outfits 2023 fashion trends! Summer calls for light, airy, breathable dresses made of textiles like cotton and in soft, muted colors that reflect sunlight.
There are numerous possibilities for women's summer clothing, each with its own set of advantages and disadvantages. Various summer clothes, for example, are too informal and cannot be worn to work.
Cap sleeves are essential to conceal the naked shoulders in order to preserve a smooth professional appearance.
Summer Outfits 2023 Fashion Trends
Below are the summer outfits 2023 fashion trends you must try today:
Tank Tops

Tank tops are an essential item in practically any woman's summer wardrobe. They are available with spaghetti straps, racerbacks, broad straps, criss-cross back straps, and various necklines.
RELATED: Prom Hairstyles For Long Hair Half Up
Many tank tops come with a built-in bra, which provides a little extra support. Women's tank tops are typically considered casual tops and are not suited for the workplace unless worn with a cardigan sweater or jacket.
Halter Tops

Halter tops are fun, casual summer top that is somewhat more figure-hugging than a T-shirt or tank top.
Halter tops typically feature a tie or a single piece of cloth connected at the nape of the neck, exposing a considerable portion of the upper back.
Nowadays, halter tops come in a variety of styles, ranging from lengthier dress styles to tight-fitting and from loose-fitting to barely-there cropped versions.
Halter shirts come in a variety of necklines, including sweetheart, scoop, and choker styles. Halter tops are casual summer-style tops with a close-fitting design that is not appropriate for the job.
RELATED: Spring Nails Colors Pedicure
Quiet Luxury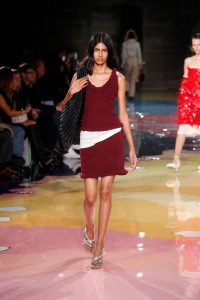 Quiet luxury, often known as "plain luxury," according to Page, is very much in. If you needed further proof, just look at the amount of coverage Gwyneth Paltrow's ski trial courtroom style drew.
This season saw the reintroduction of simplicity into our everyday wardrobes, proving that pared-back elegance is the pinnacle of luxury.
The Row, Bottega Veneta, and Savette are leading the plain luxury trend and searches for these have increased by over 185 percent, 75 percent, and 550 percent, respectively.
Strapless Shirts

Tube tops, often known as strapless shirts, are just a tube of fabric with no straps to keep them in place.
However, it can be difficult for a woman to wear a strapless shirt or feel comfortable in a tube top because different body types have problems keeping the shirt in place.
RELATED: 6 Spring Nails Colors And Designs
Tube tops are close-fitting and come in a variety of styles with a built-in bra. Strapless shirts, like halter tops, are inappropriate for work and should only be worn at casual summer events.
Best Undressed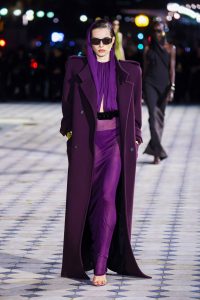 Summer nights that are too hot? Put them on and dress down. This trend represents a new wave of eveningwear dressing—a complete shift away from the high-octane glamour that has dominated the space for the past few seasons to a more understated approach that embraces nudity in a subtle and chic way.
Not all of your outfits have to be for the evening; you can always wear semi-sheer things throughout the day.
Summer Tees

T-shirts are a versatile summer fashion classic that is available in a variety of designs such as cropped, sleeveless, V-neck, scoop neck, off-the-shoulder, one-sleeved, and more.
RELATED: Top 5 Celebrity Nail Colors of Fall 2023
Women's tees go well with leggings, Capri pants, and jeans. Women's t-shirts are a terrific summertime apparel option because they come in a variety of fabrics, making it easy to find the perfect summer tee.
Women's t-shirts are typically composed of exceptionally soft fabric such as silk, and smooth polyester/cotton blends are often suitable to wear in the office, especially when combined appropriately with a sports blazer, dress pants, or pencil skirt.
A Word From GetMe Treated
Choose any of these summer outfits 2023 fashion trends to stay cool and calm throughout the summer.